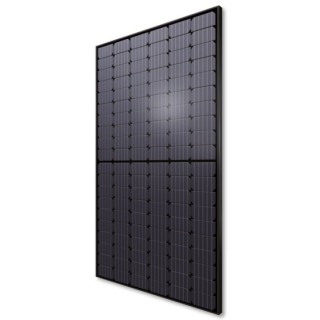 Axitec AXIblackpremium HC AC-310MH/120S-PT Solar Panel Pallet
30ea Min Purchase, 310W, MC4, 35mm Black Frame, Black Backsheet, 120 Half Cell Mono, 20A Fuse, 1000VDC, 288.0W PTC
---
Item #

1120-096
---
Axitec Pallet Savings
Save even more on RES Supply's every day low Axitec prices by purchasing a pallet. Or purchase multiple pallets to take advantage of our low $149 flat rate shipping. If you need assistance selecting additional parts for your system, add our design service – free with a full system purchase. We can even help with the permit process when you order one of our permit packages. Our great service combined with the low price on the AC-310MH/120S-PT Pallet is a value that can't be beat.
AC-310MH/120S-PT Pallet
Where Aesthetics Meets Energy
It is no surprise that AXITEC is one of the leading companies as far as technology and cost are concerned. For years, AXITEC has been a leading global manufacturer of solar modules and thanks to close partnerships with several manufacturers of wafers and cells, AXITEC is in the prime position to always use the latest technology in the production of their modules. Only manufacturers applying the AXITEC approved guidelines are allowed and certified that use automated equipment for the transport of cells and modules, as well as electro-luminescence tests during the manufacturing process. Core competence comprises the complete process chain for their solar modules from development and manufacturing through quality assurance and finally to sales and service. German engineering controls the global production capacities of 300 MWp in Asia and Europe. Headquartered in New Jersey, with additional warehousing in California, AXITEC offers customers quick service throughout the United States. Years of experience in development, production and distribution of solar modules has enabled AXITEC to provide above-average guarantees. With positive tolerances and a 15 year guarantee or linear performance guarantee, the customer always receives an added value of quality and performance.
AXITEC's AXIblackpremium HC AC-310MH/120S-PT Pallet monocrystalline half-cut module is perfectly suited for installations where the black exterior design must match the high power output. They are also ideal for sites experiencing shade at various points throughout the day.
Features
AXITEC guarantees that modules will be free from deficiencies relating to the material and workmanship for a period of 15 Years, plus they offer an exclusive linear high performance guarantee - 15 year manufacturer's guarantee on 90% of the nominal performance and 25 year manufacturer's guarantee on 85% of the nominal performance.
Positive Power Tolerance - AXITEC modules are exceptional in the solar power market offering an output of up to 4.99Wp above the nominal rating. This additional output improves the customer's return on investment – the system will pay off faster.
Snow load of up to 113 psf and stable module for a long life in extreme conditions.
100% electro-luminescence inspection micro-crack and hotspot free modules.
Soft-Grip-Seam 35mm aluminum frame for stability and easier handling.
High quality junction box and connector system for a longer life time.
German Engineered
The specifications document is loading.
Generally all of our products are in stock and ready to ship within 2 business days.
If an item you ordered is out of stock, we will contact you within 1 business day with an expected ship date. You will then have the option to accept the new ship date or cancel your order.
Either way, we guarantee your card will never be charged until your order ships.