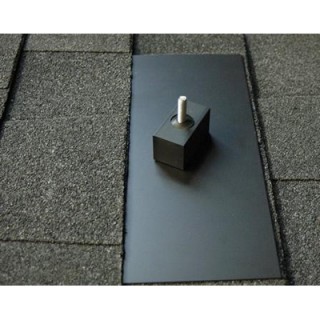 Quick Mount PV QMSC B 1 Classic Composition Mount
12" x 12", Bronze Anodized Finish, Qty. 1
---
Item #

1330-142
---
Quick Mount PV QMSC B 1 Classic Composition Mount, 12" x 12", Bronze Anodized Finish, Qty. 1
Composition mounts use patented technology to form the easiest, fastest, most universally code-compliant watertight mount available for composition roofs. The Classic Composition Roof Mount is backed by solid engineering and certified by the ICC-ES.
There's no need for trimming shingles to force a fit. Drill one pilot hole into the rafter, backfill it with appropriate sealant, slide the Quick Mount flashing beneath the felt in the course above, drive the bolt home, and it's done.
The 12 x 12-inch Classic Composition Mount flashing is designed to fit within a standard 5 to 5.5" course and the exposed course should be no greater than 5.75". If the exposure is greater than this, use the Classic Shake Mount as an alternative. There's no shingle cutting and no shingle distortion caused by trying to force a fit. Just a permanent, watertight mount every time!
Features
Patented elevated water seal
One bolt installation
No shingle cutting
100% IBC, UBC compliant
Meets or exceeds all NRCA standards and practices
2554 lbs. average pullout (Douglas fir); 2203 lbs. average shear
All aluminum flashing and mount
Stainless steel hardware (included)
10-year warranty; 50-year expected life
Works with all leading racks
Won't void roof manufacturer's warranty
Approved for use by leading roof manufacturers
Patent numbers 7,762,027 & 7,895,808
Made in USA
PV, Solar Hot Water, and More
The Quick Mount PV Classic Composition Roof Mount is the logical choice not only for solar PV installation, but also for rooftop solar hot water systems. In fact, whatever you need to fasten to a composition roof – HVAC equipment, antennas, satellite dishes – use Quick Mount PV to secure and protect every roof installation you put your name on.
Each mount kit includes
Cast aluminum mounting block (2-1/4" L x 1-1/4" W x 1-1/4" H) bonded with .05" thick, 12" x 12" aluminum flashing
Hanger bolt, 5/16" x 6" (1-1/4" machine, 1-3/4" shank, 3" lag)
Stainless steel and EPDM rubber sealing washer, 3/4" x 5/16"
Two 5/16" hex nuts
EPDM sealing washer with 60 Durometer hardness
Stainless steel flat washer, 1" x 5/16"
Available Finishes
Aluminum mill
Clear anodized
Bronze anodized
Generally all of our products are in stock and ready to ship within 2 business days.
If an item you ordered is out of stock, we will contact you within 1 business day with an expected ship date. You will then have the option to accept the new ship date or cancel your order.
Either way, we guarantee your card will never be charged until your order ships.