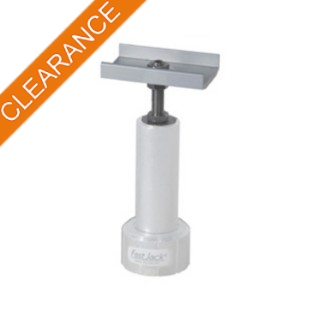 ProSolar CFJE-LEVEL Leveling Kit Assembly
For FJ Commercial E-Series, Provides 1/2" to 1 1/2" of Height Adjustability, Qty. 1
---
Item #

1330-748
---
While Quantities Last - All Sales Final
ProSolar CFJE-LEVEL Leveling Kit Assembly, For FJ Commercial E-Series, Provides 1/2" to 1 1/2" of Height Adjustability, Qty. 1
The new stainless steel FastJack® leveling kit accessory adds a 1/4" to 1" of height for occasional uneven roof sections.
Adjustable hardware concealed in support rail Aesthetics are important, especially when raising the elevation of the support rail. No bulky brackets or hardware is exposed, only a nut & washer for a clean and professional appearance. Anti-corrosion stainless steel hardware ensures longevity of the system aesthetics.
Benefits
Used to accommodate 1" of roof height variation (+1/2" to +1-1/2")
Used with Commercial FastJack® E-Series attachment
Stainless Steel design to help prevent corrosion (rust) and maintain strength
Each Kit Includes:
(1) 3/8" x 2-1/2" Stainless Steel Cup Head Stud
(3) 3/8" Stainless Steel Nuts
(3) 3/8" Stainless Steel Flat Washers
(1) Annodized Aluminum RoofTrac® Rail Support
Our Clearance Item inventory is sold while quantities last. Please contact us before order placement if you are concerned about item availability.
If an item you ordered is sold out, we will contact you within 1 business day with a possible alternate. Because the replacement item may be higher priced, you will have the option to accept the alternate, remove the alternate, or cancel your order entirely.
Either way, we guarantee your card will never be charged until your order ships.
All Clearance Item sales are final and cannot be returned.