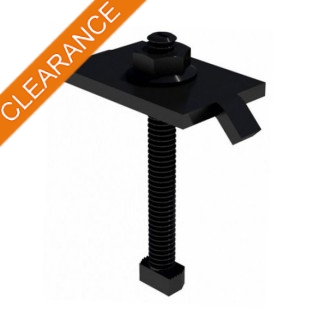 IronRidge 29-70TB-108B Mid Clamp
F-G-K, with 2.5" T-Bolt, 45-52mm, Black, Qty. 4
---
Item #

1340-217
---
While Quantities Last - All Sales Final
IronRidge 29-70TB-108B Mid Clamp, F-G-K, with 2.5" T-Bolt, 45-52mm, Black, Qty. 4
Mid Clamps with T-Bolts
IronRidge mid clamps provide a universal method for securing PV modules to IronRidge XR rails. Designed for top mounting, these clamps are not dependent upon the module's mounting holes. Instead, they fit between two adjacent modules and provide clamping pressure on both simultaneously.
The T-Bolt design allows for easier installation because the installer can insert the midclamp as each PV module is installed. With hex bolt mid clamps, the installer must slide the mid clamps down the rail before installing the PV modules and space the clamps according to the module width. IronRidge mid clamps only require .25" between modules and vary in length depending on the module being mounted.
Please use the sizing chart in the Specifications Tab to determine the correct part for your project. To determine the amount of mid clamps needed per row, subtract 1 module from the total modules in that row and multiply the resulte by 2. For example, a row of 4 modules requires 6 mid clamps: (4 - 1) x 2 = 6.
Includes four clamps manufactured from 5052-H32 aluminum and four 1/4"-20 stainless steel nuts and T-Bolts.
The specifications document is loading.
Our Clearance Item inventory is sold while quantities last. Please contact us before order placement if you are concerned about item availability.
If an item you ordered is sold out, we will contact you within 1 business day with a possible alternate. Because the replacement item may be higher priced, you will have the option to accept the alternate, remove the alternate, or cancel your order entirely.
Either way, we guarantee your card will never be charged until your order ships.
All Clearance Item sales are final and cannot be returned.