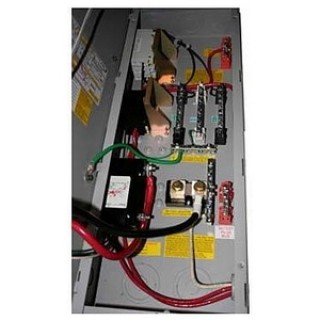 MidNite Solar MNE125STMM-L E-Panel
125A, 125 VDC, Steel left hand for Magnum MM Inverters
---
Item #

1630-009
---
MidNite Solar MNE125STMM-L E-Panel, 125A, 125 VDC, Steel left hand for Magnum MM Inverters
Designed for the Magnum Energy MM series inverters. Gray steel chassis with 125-amp inverter breaker.
The MidNite Solar E-Panel is the quickest way to install Magnum MM series inverters. They come standard with the basic over-current protection and disconnects required to install your renewable energy system. Listed to UL and CSA standards.
The Magnum E-Panel comes with inverter breaker, 2/0 inverter cables, pre-wired AC input and bypass, 500amp 50mV shunt, AC terminal blocks, 100 amp DC positive and DC negative bus bars, PV input bus bar, din rails, 3 panel mount breaker knockouts, Ground bus bar, DC wiring cover, top shield, remote display mounting bracket, wall mounting brackets, charge controller bracket and lots of hardware and grommets.
Features:
Pre-wired AC bypass and AC input, 125 amp inverter battery breaker
AC input and output busbars
All steel construction
PV-input busbar
80 amp Battery busbar
Chassis ground busbar
500 amp shunt
Charge control bracket
2AWG inverter DC cables
Mounting hole in door for MMRC control panel
Din rails for 6 additional AC or DC breakers
Knockouts for 3 panel mount breakers
GFCI knockout, mounting brackets.
Generally all of our products are in stock and ready to ship within 2 business days.
If an item you ordered is out of stock, we will contact you within 1 business day with an expected ship date. You will then have the option to accept the new ship date or cancel your order.
Either way, we guarantee your card will never be charged until your order ships.