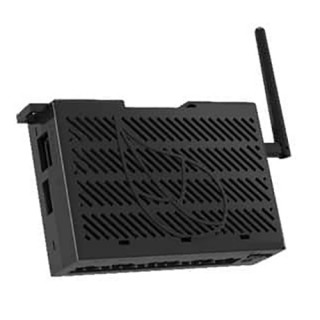 SMA ROOFCOMMKIT-P1-US TS4 Cloud Connect Advanced (CCA) Rooftop Communication Kit
For Use with SMA SBX.X-1SP-US-40 Inverters and TS4-R Modules
---
Item #

2150-079
---
SMA ROOFCOMMKIT-P1-US TS4 Cloud Connect Advanced (CCA) Rooftop Communication Kit, For Use with SMA SBX.X-1 SP-US-40 Inverters and TS4-R Modules
The ROOFCOMMKIT-P1-US TS4 Cloud Connect Advanced Rooftop Communication Kit is a convenient bundle enabling simple, fast integration with SMA Sunny Boys on site. Module-based data is transmitted wirelessly across the rooftop from the TS4-R units to the Gateway (included with the kit), which is connected via RS485 to the Cloud Connect Advanced (CCA).
The Cloud Connect Advanced communication unit connects the TS4-R components with the SMA Sunny Portal monitoring solution via WLAN or Ethernet. This means that operators can keep an eye on their systems via remote monitoring and can respond quickly in the event of irregularities. The TS4-R and gateway components of the PV system can be configured easily using a smartphone app.
The Cloud Connect Advanced is installed in the connection area of SMA's newest Sunny Boys and eliminates the need for external enclosures. Cloud Connect Advanced can communicate with up to six gateways.
Kit Includes:
(1) Cloud Connect Advanced (CCA) with WLAN Antenna
(1) Gateway
(1) 24VDC DIN Rail Power Supply
(1) Small Screwdriver
(1) DIN Rail and Hardware
(1) Ethernet Cable
(1) Insulating Sleeve
(1) Manual
SMA Power+ TS4-R Installation
The specifications document is loading.
Generally all of our products are in stock and ready to ship within 2 business days.
If an item you ordered is out of stock, we will contact you within 1 business day with an expected ship date. You will then have the option to accept the new ship date or cancel your order.
Either way, we guarantee your card will never be charged until your order ships.