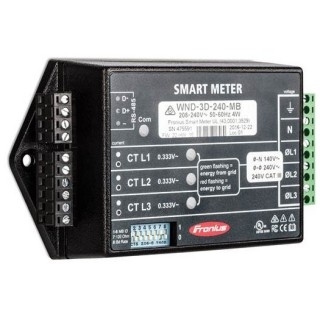 Fronius Smart Meter US-240V
208/240V, Single or Three Phase, 50-60Hz, for Primo/Galvo/Symo, 43,0001,3529
---
Item #

2160-014
---
Fronius Smart Meter US-240V, 208/240V, Single or Three-Phase, 50-60Hz, for Primo/Galvo/Symo, 43,0001,3529
The Bi-Directional Meter for Recording Power Consumption
The Fronius Smart Meter US-240V is a bidirectional meter which optimises self-consumption and records the household´s load curve. Thanks to highly accurate measurements and rapid communication via the Modbus RTU interface, dynamic feed-in control when feed-in limits are imposed is faster and more accurate than with the S0 meter. Together with Fronius Solar.web, the Fronius Smart Meter presents a clear overview of power consumption within the home. In the Fronius storage solutions, the Fronius Smart Meter provides perfectly coordinated management of the various energy flows and optimises overall energy management. The Fronius Smart Meter is ideally suited for use with the Fronius SnapINverters and the Fronius Datamanager 2.0.
NOTE: Fronius Smart Meter can be retrofitted at any time together with the Fronius Datamanager 2.0 in inverters that have already been installed.
The specifications document is loading.
Generally all of our products are in stock and ready to ship within 2 business days.
If an item you ordered is out of stock, we will contact you within 1 business day with an expected ship date. You will then have the option to accept the new ship date or cancel your order.
Either way, we guarantee your card will never be charged until your order ships.