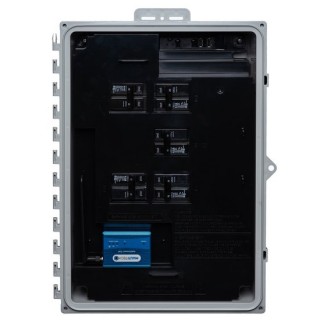 Enphase X-IQ-AM1-240-3C-ES IQ Combiner
Pre-Wired, 80A, With IQ Envoy PCB for Integrated RGM & Optional Consumption Monitoring, Space for (4) Eaton BR220-20A 2-Pole Breakers (NOT Included), with Solar CT and 2 Consumption CTs, Cell Modem w/ 5 Yr Data Plan, NEMA 3R
---
Item # 2150-080
---
Enphase X-IQ-AM1-240-3C-ES IQ Combiner, Pre-Wired, 80A, With IQ Envoy PCB for Integrated RGM & Optional Consumption Monitoring, Space for (4) Eaton BR220-20A 2-Pole Breakers (NOT Included), with Solar CT and 2 Consumption CTs, Cell Modem w/ 5 Yr Data Plan, NEMA 3R
The Enphase X-IQ-AM1-240-3C-ES IQ Combiner with Enphase IQ Envoy includes all of the equipment necessary to complete interconnection for a new solar installation using home internet connectivity via Wi-Fi or Ethernet. By consolidating interconnection equipment into a single enclosure and streamlining PV and storage installations, Enphase is able to  provide a consistent, pre-wired solution for residential applications. It offers up to four 2-pole input circuits and Eaton BR series busbar assembly and consists of an Enphase IQ Envoy™ PCB (Printed Circuit Board), an LTE-M1 cell modem (with a 5-year data plan) and a pair of production CTs. The combiner box and the current transformers work together with one-another to give full insight into production and optional consumption data. The CTs enable whole-home consumption metering with an accuracy of +/- 2.5%.
Features
Includes IQ Envoy for communication and control
Includes solar shield to match Ensemble esthetics and deflect heat
Includes LTE-M1 cell modem (with a 5-year data plan)
Flexible networking supports Wi-Fi, Ethernet, or cellular
Optional AC receptacle available for PLC bridge
Provides production metering and consumption monitoring
Centered mounting brackets support single stud mounting
Supports back and side conduit entry
Supports installation of the Enphase Q Aggregator
Up to four 2-pole branch circuits for 240 VAC plug-in breakers (not included)
Durable NRTL-certified NEMA type 3R enclosure
Five-year limited warranty
UL listed
The specifications document is loading.
Generally all of our products are in stock and ready to ship within 2 business days.
If an item you ordered is out of stock, we will contact you within 1 business day with an expected ship date. You will then have the option to accept the new ship date or cancel your order.
Either way, we guarantee your card will never be charged until your order ships.