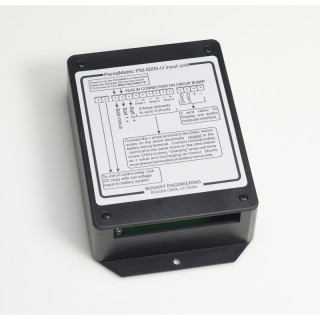 Bogart Engineering PM-5000-U PentaMetric Input and Base Unit
---
Item #

2150-010
---
Bogart Engineering PM-5000-U PentaMetric Input and Base Unit
Data input unit to collect, process and log data (near batteries).
The PentaMetric input unit senses data from the battery system. The PentaMetric input unit (5.5 x 4.25 x1.75 inches), is located near the battery system.
It has four plug in connectors, one of which has 9 wires that sense data (from current shunts, and from the batteries) and supply power to the PentaMetric. These wires monitor up to 3 channels of current (amperes), and 2 channels of volts. Another RJ11 connector attaches a temperature sensor. From these data all the other readable data are derived. A third connector can control a relay for starting a generator or providing an alarm of low or high battery level. Another connector supplies 4 wires (up to 1000 ft long) that connect to the readout unit and/or the computer interface.
The input unit also internally processes the data to produce derived information such as watts, watt hours, amp hours, battery %full, etc, which may be viewed by the display unit or by computer access. The input unit also logs data, such as daily amp hours and watt hours, charge cycle discharge information, and records battery efficiency data to allow analysis to determine if the system is operating as expected. Logged data may be viewed from the display unit however it is most conveniently viewed using the computer interface.
Generally all of our products are in stock and ready to ship within 2 business days.
If an item you ordered is out of stock, we will contact you within 1 business day with an expected ship date. You will then have the option to accept the new ship date or cancel your order.
Either way, we guarantee your card will never be charged until your order ships.