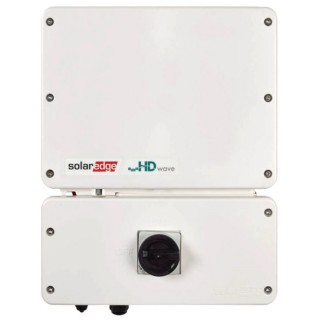 SolarEdge SE10000H-US000BNI4 HD-Wave Inverter with RGM and Consumption Monitoring
10000W, 240VAC, 60 Hz, 3 Unfused Inputs, Ground and AFCI Protection, Ungrounded, RS485 and Ethernet, AC RSD, ANSI C12.20 Revenue Grade Meter and Consumption Monitoring, UL 1741-SA
---
Item # 1430-018
---
SolarEdge SE10000H-US000BNI4 HD-Wave Inverter with RGM, 10000W, 240VAC, 60 Hz, 3 Unfused Inputs, Ground and AFCI Protection, Ungrounded, RS485 and Ethernet, AC RSD, ANSI C12.20 Revenue Grade Meter and Consumption Monitoring, UL 1741-SA
SolarEdge's HD-Wave technology inverter, winner of the prestigious 2016 Intersolar award, breaks the mold of traditional inverters. Using a novel power conversion technology that is based on a distributed switching and powerful DSP processing, the HD-Wave technology inverter is able to synthesize a clean sine wave that leads to a dramatic reduction in the magnetics and heavy cooling elements. This small and lightweight inverter enables simplified shipping and storing and one-person installation. The record-breaking efficiency allows more energy production for an improved ROI.
The SolarEdge SE10000H-US000BNI4 single phase inverter is equipped with an ANSI C12.20 Revenue Grade Meter and Consumption Monitoring. It also includes a smart new commissioning method that is done directly through a smartphone using the intuitive SetApp mobile application. Inverter commissioning has never been so easy. All the information you need is in the palm of your hand so the display screen is no longer necessary! Download the SetApp here: SolarEdge SetApp
Features
Specifically Designed to Work with Power Optimizers
Indoor and Outdoor Installation
Small and Lightweight at Less Than 39 LBS
Built-in Module-Level Monitoring
Record-breaking Efficiency at 99% CEC Weighted Efficiency
Up to 155% DC/AC Oversizing Allowed
Longer Strings
Integrated Arc Fault protection and Rapid Shutdown for NEC 2014 and 2017, per article 690.11 and 690.12
UL1741 SA certified, for CPUC Rule 21 grid compliance
Quick and easy inverter commissioning directly from a smartphone using the SolarEdge SetApp
Built-in Revenue Grade Meter (ANSI C12.20 Class 0.5) with ±0.5% Accuracy
Built-In Consumption Metering with 1% Accuracy
SolarEdge Inverter and Optimizer Technology Overview
Commissioning Procedure for SetApp Inverters
HD-Wave Inverter Technology
The specifications document is loading.
Generally all of our products are in stock and ready to ship within 2 business days.
If an item you ordered is out of stock, we will contact you within 1 business day with an expected ship date. You will then have the option to accept the new ship date or cancel your order.
Either way, we guarantee your card will never be charged until your order ships.