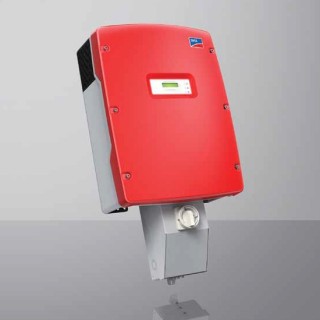 SMA Sunny Boy 11000TLUS-12 Inverter
11kW, 240VAC, 60Hz, with DC Disconnect and 1 Unfused Input, 1 MPPT, Arc-Fault Protection
---
Item #

1430-138
---
SMA Sunny Boy 11000TLUS-12 Inverter, 11kW, 240VAC, 60Hz, with DC Disconnect and 1 Unfused Input, 1 MPPT, Arc-Fault Protection
Transformerless Design, Maximum Yields - Now with Arc-Fault Circuit Interrupter
The Sunny Boy is the world's most popular line of solar inverters. The reasons for this success are straightforward: unmatched versatility, reliability, efficiency and durability. The graduated power classes of this family of inverters provide flexibility in system design, meaning the Sunny Boy is the right solution for any application.
SMA Sunny Boy US inverters are now available with integrated Arc Fault Circuit Interrupter (AFCI) functionality. Integrating AFCI functionality within the PV system inverter eliminates the cost and effort of installing additional arc-fault circuit protection components to meet 2011 NEC section 690.11 requirements. DC arc-fault circuit protection provides supplementary protection against fires that may arise as a result of arcing faults in PV system components or wiring.
Section 690.11 of ANSI/NFPA 70®, National Electrical Code® 2011 Edition (2011 NEC) sets new requirements for photovoltaic (PV) systems installed on or penetrating a building. These requirements apply to newly installed PV systems with a maximum voltage of 80 volts or greater. Such PV systems must be equipped with direct current (DC) arc-fault circuit protection.
The Sunny Boy TL-US series is UL-listed for North America and features SMA's innovative H5 topology, resulting in superior efficiencies of up to 98 percent and unmatched solar yields. The transformerless design reduces weight, increases the speed of payback and provides optimum value for any decentralized, commercial PV system. The Sunny Boy TL-US series for North America is the ideal choice for mid-size and large plants from 24 kWp up to the megawatt range.
Features
Innovative
First transformerless SMA inverter for the North American market
Integrated AFCI functionality meets the requirements of NEC 2011 690.11
Economical
Maximum efficiency of 98.7%
Class-leading CEC efficiency of 98.5%
Superior MPP tracking with OptiTrac™
Transformerless, with H5 topology
Reliable
OptiCool™ active temperature management
Convenient
Integrated DC disconnect
SMA Power Balancer for three-phase grid connection
The specifications document is loading.
Generally all of our products are in stock and ready to ship within 2 business days.
If an item you ordered is out of stock, we will contact you within 1 business day with an expected ship date. You will then have the option to accept the new ship date or cancel your order.
Either way, we guarantee your card will never be charged until your order ships.