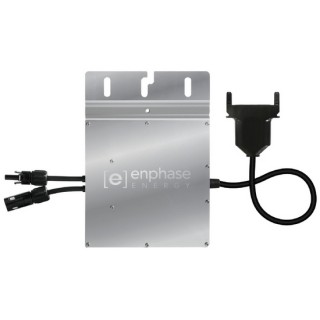 Enphase M250-72-2LL-S22 Microinverter
250W, 240/208VAC, 60Hz, 16-60VDC, for 60 or 72 Cell Modules, MC4 Locking Connector In, 16" Engage Cable Out, with Integrated Ground
---
Item #

1430-239
---
While Quantities Last - All Sales Final
Enphase M250-72-2LL-S22 Microinverter, 250W, 240/208VAC, 60Hz, 16-60VDC, for 60 or 72 Cell Modules, MC4 Locking Connector In, 16" Engage Cable Out, with Integrated Ground
The Fourth-Generation Enphase Microinverter
With its all-AC approach and integrated grounding, the Enphase M250-72-2LL-S22 delivers increased energy harvest and reduces design and installation complexity. This versatility makes the M250-72-2LL-S22 an ideal choice for both resdiential and commercial solar PV installations because of its compatibility with both 60 and 72-cell modules. The Enphase M250-72-2LL-S22 integrates seamlessly with the Engage® Cable, the Enphase Envoy® Communications GatewayTM, and the Enlighten®, Enphase's monitoring and analysis software.

NOTE: This item replaces the Enphase M250-60-2LL-S22 Microinverter.
Features
Productive
Designed for a wide range of modules
Maximizes energy production
Minimizes impact of shading, dust and debris
Simple
No GEC needed for microinverter
No DC design or string calculation required
Easy installation with Engage Cable - plug and play
Reliable
4th-generation product
More than 1 million hours of testing and millions of units shipped
Industry-leading warranty, up to 25 years
Specifications
Output power: 250W AC
96.5% CEC efficiency
Recommended max input power: 210-350+ W
MPPT Range: 27-48V
CSA listed per UL 1741/IEEE1547
The specifications document is loading.
Sale Items are sold while quantities last. Please contact us before order placement if you are concerned about item availability.
If an item you ordered is sold out, we will contact you within 1 business day with a possible alternate. Because the replacement item may be higher priced, you will have the option to accept the alternate, remove the alternate, or cancel your order entirely.
Either way, we guarantee your card will never be charged until your order ships.