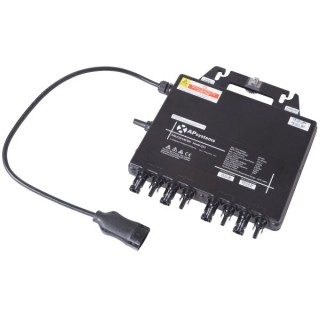 APsystems QS1 4-Module Microinverter
4 MPPT, 300W Per MPPT, 240/208VAC, 60Hz, 20-60VDC, for 60 and 72-Cell Modules up to 375W+, MC4 DC Connectors, Female AC Connector, Smart-Grid Ready
---
Item #

1430-030
---
APsystems QS1 4-Module Microinverter, 4 MPPT, 300W Per MPPT, 240/208VAC, 60Hz, 20-60VDC, for 60 and 72-Cell Modules up to 375W+, MC4 DC Connectors, Female AC Connector, Smart-Grid Ready
Power Quadrupled
Each PV module has individual Maximum Peak Power Tracking (MPPT) controls, which ensures that the maximum power is produced to the utility grid regardless of the performance of the other PV modules in the array. When PV modules in the array are affected by shade, dust, orientation, or any situation in which one module underperforms compared with the other units, the APsystems Microinverter ensures top performance from the array by maximizing the performance of each module within the array. The distributed APsystems Microinverter system ensures that no single point of system failure exists across the PV system. APsystems Microinverters are designed to operate at full power at ambient outdoor temperatures of up to 149°F (65°C). The inverter housing is designed for outdoor installation and complies with the Type 6 environmental enclosure rating. You can install individual PV modules in any combination of Module quantity, orientation, different type and power rate.
A new design for APsystems, the QS1 offers 300% faster installation time, while offering the highest peak output power and up to 3X faster transmission speed than conventional microinverters. A wider MPPT voltage range will result in a greater energy harvest for homeowners. The first of its kind, the QS1 is designed to accommodate today's high output PV panels, offer enhanced capability and significantly reduce installation time and costs while providing an unprecedented level of power with four independent MPPT per channel. Common AC trunk cabling with the dual-module YC600, offers flexible mix-and-match compatibility on the same circuit and with the same gateway (ECU-R or ECU-C). A true utility-interactive microinverter with Reactive Power Control (RPC) technology, the QS1 is inherently NEC 690.12 2014/2017 Rapid Shutdown compliant. The unit also builds on the successful APsystems line of multi-module microinverters, offering reduced logistics costs and integrated communication and connection features.
NOTE:  The APsystems microinverter will operate in standalone mode without connecting to either the APsystems ECU or the APsystems EMA, and also works with the APsystems ECU alone. To allow full web analysis, the APsystems ECU must be connected to and logged into the APsystems EMA.
Features
4-module microinverter with independent MPPT per panel
300% faster installation than conventional microinverters
Highest peak power output of 300W per channel
Wider MPPT voltage range for greater energy harvest
Accommodates PV panels up to 375W
2.4GHz ZigBee mesh network (3X faster than PLC)
Common AC trunk cable w/ YC600; flexible, mix-and-match compatibility
QS1 Connection and Cabling
The specifications document is loading.
Generally all of our products are in stock and ready to ship within 2 business days.
If an item you ordered is out of stock, we will contact you within 1 business day with an expected ship date. You will then have the option to accept the new ship date or cancel your order.
Either way, we guarantee your card will never be charged until your order ships.