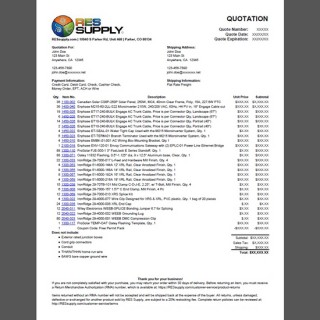 Design and Quote for Off-Grid PV System
---
Item #

1010-003
---
We use satellite imagery to evaluate the solar potential for your site. You will not be charged for this service if your location is not a good match for solar.
If you are a good candidate for solar, we will use the information you provide below to calculate the PV system size necessary to achieve your goals and provide an itemized cost breakdown.
System Design Steps
The solar resource is determined for your area. This is a measure of the sunlight intensity and available sun hours.
Derating factors are calculated based on the array orientation, tilt, shading and other site conditions.
The PV system size is calculated using this data and adjusted to meet your load requirements, days of autonomy and other project goals.
Solar panels are selected based on site conditions, budget constraints and customer preference.
The wind load, snow load and seismic zone rating are determined for your area.
Racking is specified based on these loads, unique site requirements and customer preference.
Inverter(s), charger(s), charge controller(s) and battery bank size is determined based on historical temperature extremes, site conditions, load requirements, days of autonomy, installation ease and user preference.
Balance of system components are itemized based on the distance from the array to the service panel and other unique installation requirements.
The itemized cost is generated and emailed for your review.
Please complete the form below to receive your personalized system and quote.
Items in bold are required and other areas are optional.

Your quote is based on the accuracy and detail provided below.

You will be notified within 1 business day if your site is not ideal for solar and you will not be charged.

If you are a good candidate for solar,

an itemized quote will be delivered within 3 business days and your card will be charged.

The price for this service will be deducted from the PV system cost when purchased from RES Supply.

The PV system must include mounting hardware, solar panels, inverter(s), charge controller(s) and batteries to receive the $199 credit.
Generally all of our products are in stock and ready to ship within 2 business days.
If an item you ordered is out of stock, we will contact you within 1 business day with an expected ship date. You will then have the option to accept the new ship date or cancel your order.
Either way, we guarantee your card will never be charged until your order ships.