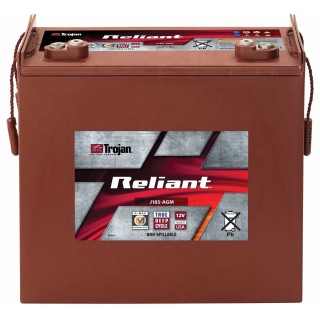 Trojan Battery Reliant J185-AGM Deep-Cycle Sealed AGM Battery
12V, 200Ah @ 20Hr, Group 921, M6/M8/DT/LT Terminal
---
Item #

1820-059
---
Trojan Battery Reliant J185-AGM Deep-Cycle Sealed AGM Battery, 12V, 200Ah @ 20Hr, Group 921, M6/M8/DT/LT Terminal
Experience a new direction in true deep-cycle AGM batteries
Trojan's Reliant™ Line of U.S.-made Absorbed Glass Mat (AGM) batteries feature design elements that offer a new direction in AGM technology. As the only true deep-cycle AGM battery on the market today, Reliant is engineered with an advanced technology feature set that provides outstanding sustained performance and total energy output, delivering the exceptional quality and reliability Trojan batteries are known for. As the world's leading manufacturer of deep-cycle batteries for more than over 90 years, Trojan has developed Reliant™ AGM with C-Max Technology™ for a wide range of applications which will benefit from its true deep-cycle design, including aerial work platform, floor cleaning, golf, inverter, material handling, oil and gas, recreation, remote telecom, and renewable energy. Reliant AGM is also designed to power equipment used in locations where regulatory mandates require use of non-spillable batteries such as airports, healthcare facilities, shopping centers, educational institutions, etc.
Reliant J185-AGM batteries are designed specifically for deep-cycle performance by Trojan's engineering team, which boasts more than 200 years of combined expertise in deep-cycle battery technology. Built in the USA at our state-of-the-art manufacturing facility in Sandersville, Georgia, Reliant AGM features premium components and superior manufacturing techniques. Reliant AGM is also supported by Trojan's technical support and Master Distributor network worldwide. Trojan's deep-cycle Absorbed Glass Mat (AGM) maintenance-free batteries feature a number of design elements to provide optimum performance. Robust plates and separators extend the life-cycle of Trojan's deep-cycle AGM batteries while a computer-generated grid design is optimized for high-power density. Trojan's deep-cycle AGM batteries are low temperature tolerant, shock and vibration resistant and have a low internal resistance for higher discharge current and higher charging efficiency. Reliant's unique C-Max Technology incorporates a wide range of features not found in many of today's AGM battery offerings, including a proprietary paste formula, unique separator, special polymer case design and maximum flame arrestors. These combined elements deliver increased total energy output, maximized sustained performance, consistent quality, and enhanced durability.
C-Max Technology Features and Benefits
Proprietary Paste Formula - Paste features elements designed to address the needs of deep-cycle applications - Maximizes sustained performance and increases total energy
Unique Separator Composition - Thick design ensures high compression for effective contact between glass mats and plates - Protects against stratification for extended battery life
Plastic Polymer Case Design - Distinct plastic polymer case formula with reinforced case end walls - Increases durability and provides higher battery cell compression to ensure reliable performance
Maximum Flame Arrestors - Features one flame arrestor for each cell - Provides maximum battery safety
Manufacturing Excellence - Trojan's advanced technology, premium components, exacting quality standards, dual-sided pasting process and superior manufacturing techniques - Delivers consistent battery quality for dependable battery functionality in deep-cycle AGM applications
Made in the USA - Manufactured in Sandersville, Georgia to the Exacting Standards
Additional Benefits
Non-Splillable and Maintenance-Free - No Watering Required
Reliant Series Batteries
The specifications document is loading.
Generally all of our products are in stock and ready to ship within 2 business days.
If an item you ordered is out of stock, we will contact you within 1 business day with an expected ship date. You will then have the option to accept the new ship date or cancel your order.
Either way, we guarantee your card will never be charged until your order ships.