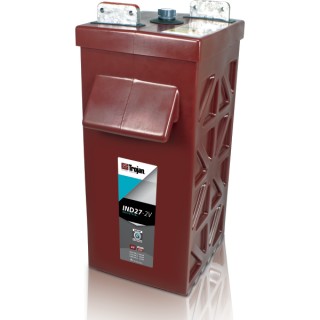 Trojan Battery IND27-2V Industrial Flooded Battery
2V, 1520Ah @ 20 Hours, Industrial Terminal
---
Item #

1840-086
---
Trojan Battery IND27-2V Industrial Flooded Battery, 2V, 1520Ah @ 20 Hours, Industrial Terminal
Renewable energy installations are rapidly growing around the world. From fully autonomous off-grid buildings in the world's most affluent regions, to luxury eco-resorts in exotic but remote areas, to the more than 1.6 billion people in the developing world who lack consistent access to the electric grid, obtaining and utilizing clean reliable energy is now an achievable reality of daily life. As the leading manufacturer of deep-cycle batteries, Trojan Battery Company believes in providing clean and reliable energy storage solutions that enhance the way people live and work around the world. For more than 90 years, Trojan Battery has focused its experience and expertise in deep-cycle technology on manufacturing the highest quality, deep-cycle batteries available in the industry. If there is one thing they've learned over the years, it's that a truly outstanding battery must provide rugged durability, long life and reliable performance day in and day out. Headquartered in Santa Fe Springs, Calif., Trojan's operations include four ISO 9001:2008 certified manufacturing plants in California and Georgia, two advanced research and development centers dedicated exclusively to deep-cycle battery technologies, and international offices located in Europe, UAE and Asia. Trojan is a proud member of the Battery Council International (BCI), the Advanced Lead Acid Battery Consortium and a technical research partner with the Bulgarian Academy of Sciences.
Trojan's Industrial line of deep-cycle batteries are engineered specifically to support renewable energy systems with large daily loads where the batteries are cycled regularly. These high amp-hour capacity batteries are ideal for use in large off-grid photovoltaic (PV) systems, off-grid hybrid PV systems, grid-tied PV systems with battery backup, smart grid peak shifting systems and a variety of other applications. Tested to meet both IEC and BCI standards, the Industrial line features advanced battery technologies that deliver reliable power. Trojan's Industrial line is the perfect combination of performance and function.
Features
Alpha Plus® Paste with T2 Technology™ which optimizes porosity development in the active material enabling the active material to be used more effectively. This results in sustained battery performance over a longer period of time.
DuraGrid™ Design provides a thick grid structure that resists corrosion, and when combined with the Alpha Plus Paste with T2 technology, increases overall battery life.
Reinforced Protection Wrap which is a five component wrapping and insulating system that includes an edge-protecting Koroseal with a plastic boot to protect the bottom of the plate. This advanced plate construction safeguards against shedding, and assures the electrochemical performance of the battery's active materials improving the battery's overall performance.
Maxguard® XL Separator is exclusively available in Trojan's Industrial and Premium lines. It features a wide- channel design which increases acid flow for optimum battery performance and provides greater resistance to stratification, a typical mode of failure in batteries used in renewable energy systems.
Rugged Construction and Intelligent Design includes removable 2-volt cell components assembled in a rugged polypropylene housing, which are then bundled in a secondary polyethylene containment case to form single, high-capacity 4-volt and 6-volt battery solutions. The intelligent design protects against damage caused by harsh environmental conditions such as moisture and dirt buildup, safeguards against potential acid leaks, and provides for easier maintenance.
The specifications document is loading.
Generally all of our products are in stock and ready to ship within 2 business days.
If an item you ordered is out of stock, we will contact you within 1 business day with an expected ship date. You will then have the option to accept the new ship date or cancel your order.
Either way, we guarantee your card will never be charged until your order ships.