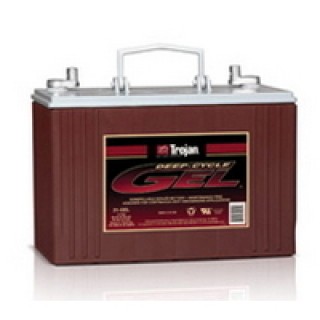 Trojan Battery 31-GEL Sealed GEL Battery
12V, 102Ah @ 20 Hours, Group 31, Universal Terminal
---
Item #

1870-027
---
Trojan Battery 31-GEL Sealed GEL Battery, 12V, 102Ah @ 20 Hours, Group 31, Universal Terminal
The power of maroon with maintenance free convenience
With over 80 years of experience, Trojan Battery -- the most trusted name in deep cycle flooded/wet technology -- now offers the next best thing: Deep-Cycle Gel™ batteries.
Trojan's Deep-Cycle Gel batteries are completely maintenance free and require no watering. Additional benefits include:
Long-lasting runtime and battery life in the most demanding of applications
- Proprietary Gel formulation prevents stratification
- Batteries cycle longer and deeper than AGM

Superior engineering offers exceptional durability
Certified non-spillable (UN2800): approved for air, sea or ground transportation
Sealed containers ensure safe use
Trojan Deep-Cycle Gel is engineered for high performance in deep-discharge and heavy-duty cycling applications such as:
Aerial Work Platform (AWP) / Access
Renewable Energy (solar, small wind and small hydro)
Industrial
Remote Monitoring and Instrumentation
Recreational Vehicle (RV)
Floor Machine
Golf / Utility / Neighborhood Electric Vehicle (EV)
Material Handling
BCI Group Size: 31
Type: 31-Gel
Weight lbs (kg): 69 (31)
Dimensions (L x W x H): 12-15/16" x 6-3/4" x 9-5/8" / 329 x 171 x 245 mm
Capacity Minutes
Cranking
Performance

5 Hr
Rate AH

 

20 Hr
Rate AH

Voltage

Terminal

@25
Amps

@56
Amps

@75
Amps

CCA
@ 0°F

CA
@ 32°F

200

-

-

445

620

85

102

12

UT
Generally all of our products are in stock and ready to ship within 2 business days.
If an item you ordered is out of stock, we will contact you within 1 business day with an expected ship date. You will then have the option to accept the new ship date or cancel your order.
Either way, we guarantee your card will never be charged until your order ships.