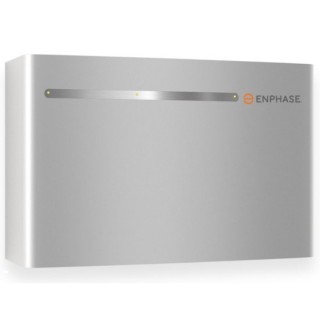 Enphase ENCHARGE-10-1P-NA Storage System
10.5kWh Storage Capacity, With (12) Integrated IQ8X-BATT Inverters, 120/240VAC, NEMA 3R
---
Item # 1850-012
---
Enphase ENCHARGE-10-1P-NA Storage System, 10.5kWh Storage Capacity, With (12) Integrated IQ8X-BATT Inverters, 120/240VAC, NEMA 3R
Enphase Storage - When the grid is down, you have power and when the grid is up, you can save money.
The Encharge™ Storage System (ESS) is an all-in-one AC coupled storage system that includes embedded grid forming multimode microinverters. The system is designed to sense when it is optimal to charge or discharge the battery so that energy is stored when it is plentiful and used when there is very little. Encharge™ storage systems are capable of providing backup power when an Enphase Enpower™ smart switch is installed at the site and can be configured in a variety of unique installation scenarios depending on your desired storage needs. The Encharge™ storage system provides flexibility to customers who want to start small and add capacity down the road.
The Enphase ENCHARGE-10-1P-NA provides 10.1kWh through three 3.36 kWh base Encharge 3™ storage units. These storage units include a total of twelve IQ8X-BATgrid-forming microinverters providing a 3.84kWcontinuous output power rating and a surge power rating of 5.76kW for 10 seconds. This means that one ENCHARGE-10-1P-NA can supply 24A of surge current for 10 seconds. Connecting multiple Encharge 10 storage systems will allow you to maximize backup potential for the whole home. The Encharge™ storage system is also compatible and can be retrofitted with existing Enphase IQ series microinverters, Enpower and IQ Envoy for backup operation.
Features
Reliable
Proven high-reliability IQ Series Microinverters
Ten-year limited warranty
Twelve embedded IQ 8X-BAT Microinverters
Passive cooling (no moving parts/fans)
Smart
Grid-forming capability for backup operation
Remote software and firmware upgrade
Mobile app-based monitoring and control
Support for self consumption
Utility time of use (TOU) optimization
Simple
Fully integrated AC battery system
Quick and easy plug-and-play installation
Interconnects with standard household AC wiring
Safe
Battery cells safety tested
Lithium iron phosphate (LFP) chemistry for maximum safety and longevity
Additional Equipment (Sold Separately)
Ensemble Technology Introduction
The specifications document is loading.
Generally all of our products are in stock and ready to ship within 2 business days.
If an item you ordered is out of stock, we will contact you within 1 business day with an expected ship date. You will then have the option to accept the new ship date or cancel your order.
Either way, we guarantee your card will never be charged until your order ships.